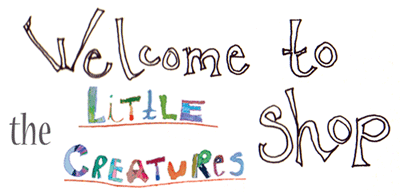 Little Creatures Films on DVD:

Spirit Ship: Advance Purchase DVD (will ship later this year when finished): $15
2010. 15 min. HD. Color. Through a series of events, particularly the discovery of many strange and haunting personal artifacts strewn along the sea shore, three children eventually come to see beyond the living world, into the spirit realm, where three young victims of a shipwreck are also wandering. The story takes place against the backdrop of several untouched historic and natural environments along the Red Hook waterfront. Directed by Kristin Eno. Trailer is here. See cast and crew here.

Ark DVD: $10
2004. 15 min. Mini-DV. Color. A girl is walking in the woods and finds a mysterious box. She places a seed inside the box and hides it. Time passes, and children playing in the woods, by a lake and at the ocean, come upon the same box. In each of four scenes, the box holds more and more strange small beings, little people who need the children so that they can gain new life. Play collaboration with eight children in Brooklyn, NY. Screened at the 39th Annual BAC Film Festival, 2005 and the 2007 Kids First! Film Festival. Subject of KBE's Ed.M. qualitative research study on children's media. Directed by Kristin and Sean Eno. View 2:40 min. excerpt of 15 min. film.


Sophie in the Trees DVD: $5
2001. 2 min. Mini-DV. B&W. A girl walks in the woods in Vermont. Children in Bedford-Stuyvesant, Brooklyn, narrate, with phrases such as "Sometimes you gotta walk slow for a reason" and "She's looking at something that we can't see." Directed by Kristin and Sean Eno. See 2 min. video.
Spirit Ship Promo Jar: $5
A promotional object for Spirit Ship: this jar will keep your 4-10 year old child busy for a few minutes, up to a few hours. This reused babyfood jar (with shimmery painted lid) contains:
• Tiny key
• Small shell
• Sand
• Full-color printed Spirit Ship film still, with the words: "Spirit Ship: A short film about and for young children, www.littlecreaturesfilms.com"
Each jar is a little different. Hand-painted (acrylic) top has a little shimmer and a range of ocean blues and an acrylic gel coating. Some jars are short, some are taller. All are from baby food, so they range from 2.5 to 3.5 inches tall, and are 2 inches in diameter. The jars come with various Spirit Ship stills, and the buyer can specify which you would like:
• Milo with camera (featured in image of jar)
• Girls walking in the sunlight (still from home page of Little Creatures website)
• Girls in boat, talking
• Lindsy looking through magnifying glass
The jar is designed as a take-away for children who see the Spirit Ship trailer at Little Creatures' events and focus groups in NYC and around the country, but we are selling it here on our website as well, to spread the word about Spirit Ship and Little Creatures. Parents have told us that their children kept coming back to the jar for weeks after the screening event, leading us to wonder about the power of media versus tangible objects (something for us educators to think about!). Most children are captivated by the idea of "treasure," so this jar, with its key, shell and film still/photo hiding in the sand, will not disappoint, and will likely be explored by your little one for hours on end.
If you have difficulty ordering any of these items, please contact us:
shop [at] littlecreaturesfilms.com