Welcome to Little Creatures!
Download Printable 2-page Flyer about Little Creatures (PDF)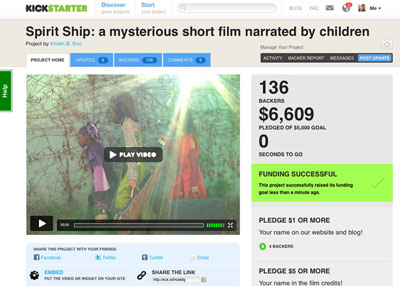 See our Kickstarter Campaign: We raised $6609 to finish and distribute Spirit Ship!
To all the children out there:
Little Creatures makes movies about adventures. The movies happen outside, in this strange world filled with beautiful nature. We really love to look inside children's minds and follow your journeys. . . to reveal what is . . . lovely . . . mysterious . . . what makes you think . . . what sounds like poetry. . .what might be just a little bit spooky . . . what makes you wonder about your life, the great outdoors, and your boundless imagination.
Our films tell stories that seem like they might not be able to happen in real life! But we make them with real kids. We don't tell kids what to say, but we give them lots of clues and hints to help them out as they go on their adventures. Our movie are mostly about things that really happened, except that there's something mysterious and completely unusual about them. But you should take a look and decide for yourself. . .
To all the parents out there:
Little Creatures is a film production company that invites 4-10 year old children to collaborate with filmmakers to produce imaginative live action films told in the children's voice. These movies are shot on location in various natural settings, with the children's spontaneous interactions recorded as dialogue and their own poetic descriptions of their actions recorded as voiceover narration. Through all of these videos run threads of mystery and wonder, the representation of childhood as something beautiful, poetic, and profound, and the beauty and power of the natural world to inform young children's play and storytelling/myth-making. Our films aim to help develop children's play into deeper realms of problem solving and multidisciplinary learning by encouraging them to spend more of the crucial phase of early childhood development in spaces that they co-create from the ground up.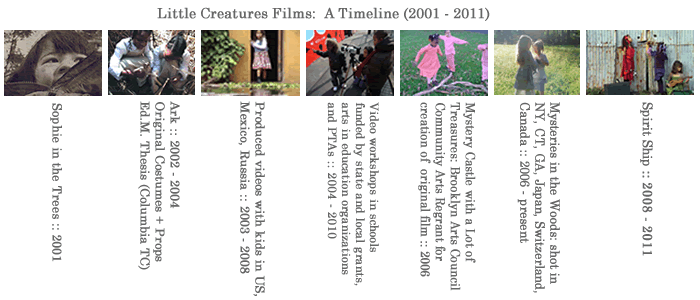 Spirit Ship: 2011. Through a series of events, particularly the discovery of many strange and haunting personal artifacts strewn along the sea shore, three children eventually come to see beyond the living world, into the spirit realm, where three young victims of a shipwreck are also wandering. The story takes place against the backdrop of several untouched historic and natural environments along the Red Hook waterfront. Directed by Kristin Eno and shot on location with a crew of 10 and cast of 6 children, in Red Hook in October of 2008. Watch Spirit Ship here, or the trailer here. See our successful Kickstarter campaign, which ran from December 2010 through January 2011, and helped us raise $6609 for production/distribution expenses.

Mysteries in the Woods: Web series, in production. Seven to ten groups of young children from around the world discover and develop stories about unusual organic objects. Children in one scene find objects that other children from other scenes have also discovered. The places and times of each scene are not necessarily connected, nor are the children themselves (except by their costumes which are similar but in each scene are a different color). The objects, mostly derived in some way from seeds, draw the children together, as can been seen through the progression of the video, shot on location in Georgia, New York, Connecticut, Japan, Canada and Switzerland. Directed by Kristin Eno. See trailer here.

Mystery Castle with a Lot of Treasures: 2006. Four separate groups of six-year-old children playing outdoors discover a strange box made of seeds and explore its meaning and uses. Prop created by 8-9 year old children, using seeds found in their East New York neighborhood. Directed by Kristin Eno, camera by Sean Eno. Funding provided by the Brooklyn Arts Council's Community Arts Regrant (Individual Artist's Tier & Program B).

Ark: 2004. A girl is walking in the woods and finds a mysterious box. She places a seed inside the box and hides it. Time passes, and children playing in the woods, by a lake and at the ocean, come upon the same box. In each of four scenes, the box holds more and more strange small beings, little people who need the children so that they can gain new life. Play collaboration with eight children in Brooklyn, NY. Screened at the 39th Annual BAC Film Festival, 2005 and the 2007 Kids First! Film Festival. Subject of KBE's Ed.M. qualitative research study on children's media. Directed by Kristin and Sean Eno. View 2:40 min. excerpt of 15 min. film. Purchase DVD.



Sophie in the Trees (2001): A girl walks in the woods in Vermont. Children in Bedford-Stuyvesant, Brooklyn, narrate, with phrases such as "Sometimes you gotta walk slow for a reason" and "She's looking at something that we can't see." Directed by Kristin and Sean Eno. See 2 min. video. Purchase DVD.